The Study of Astronomy, adapted to the capacities of youth In twelve familiar dialogues, between a tutor and his pupil: explaining the general phænomena of the heavenly bodies, the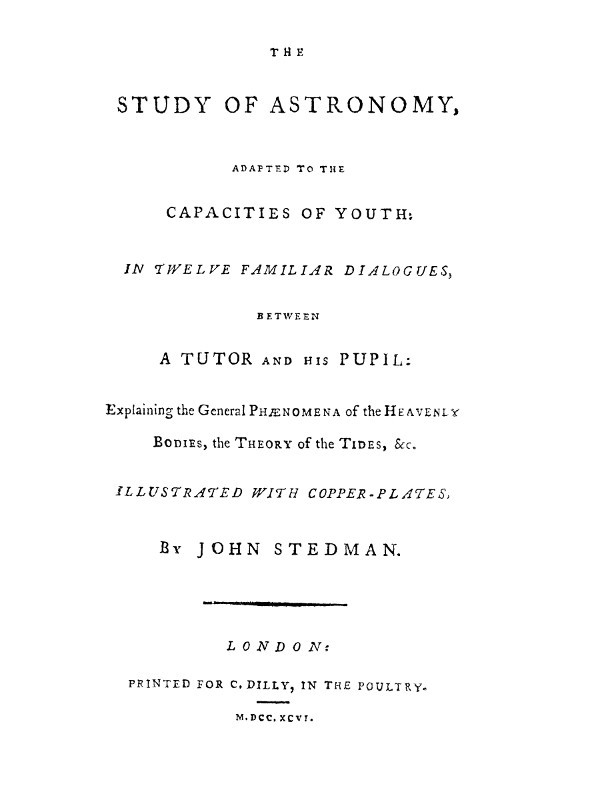 ISBN:
the-study-of-astronomy-adapted-to-the-capacities-of-youth-in-twe
Видавництво:
Project Gutenberg
Спосіб оплати: Ви можете оплатити замовлення карткою Visa / Mastercard у захищеному форматі на сайті.
Поширити:
Читайте у додатку:
Опис:
Well, Sir! I suppose this early visit is in consequence of my promise, and your anxiety to become an astronomer.
Pupil. It is, Sir.—And as astronomy is a science of which I have a very imperfect idea, I must beg of you to explain it to me.
Tutor. That I shall do with pleasure. But you surely cannot wholly forget what I have formerly told you. However, as I mean to treat the subject as if you had no previous knowledge of it, you will have an opportunity from what you can recollect, to make such remarks, and ask such questions, as may appear most material to you.
2Pupil. I thank you, Sir, it is just what I wish.
Рекомендовані товари: