New Edition of Hints on Silver-Glass Reflecting Telescopes Manufactured by Mr. G. Calver, F.R.A.S. with Directions for Silvering, Adjusting, &c.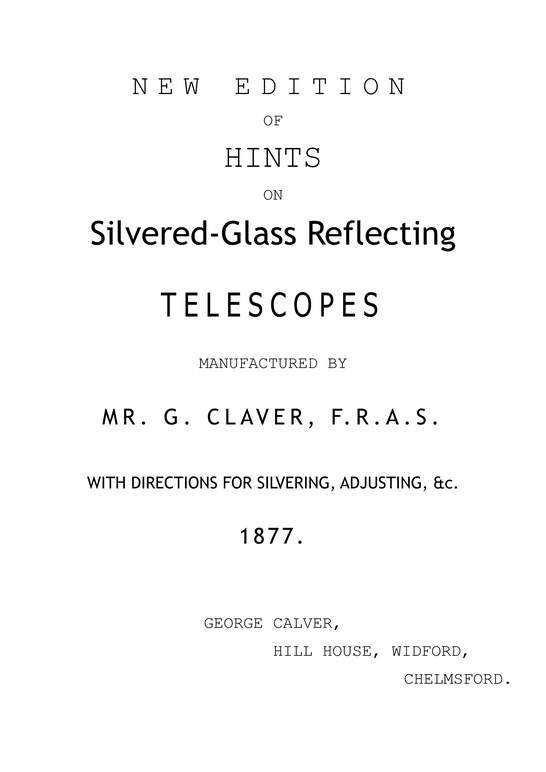 ISBN:
new-edition-of-hints-on-silver-glass-reflecting-telescopes-manuf
Видавництво:
Project Gutenberg
Спосіб оплати: Ви можете оплатити замовлення карткою Visa / Mastercard у захищеному форматі на сайті.
Поширити:
Читайте у додатку:
Опис:
Of the various forms of Telescopes now in use, each has its own peculiar advantages; but the Silvered-Glass Reflector is undoubtedly gaining favour among our practical observers. A well-figured speculum, being perfectly free from chromatic aberration, gives, in a proper condition of the atmosphere, the finest possible definition of the Moon and planets, the markings and colours of these objects being excellently seen; while coloured stars, such as Albireo (β Cygni), or Almaach (γ Andromedæ), are exceedingly well shown, the beautiful contrast of the stars in the former being especially noticeable in a reflector. The advice of "F.R.A.S." (in the "English Mechanic," March 21st, 1873) as to the choice of a Telescope, may here appropriately be quoted. After expressing a preference for refractors when measuring close double-stars, he says, "But should the object of your correspondent be merely to regard the wonders and beauties of the Heavens, or notably, should he purpose to devote himself to the study of the physical structure of the Moon and planets, then by all means let him obtain the largest reflector he can afford; its absolute achromatism tells most astonishingly on these last-named objects." This is the opinion of one who has great practical knowledge of the different forms of Telescopes.
Рекомендовані товари: