The Story of My Life Being Reminiscences of Sixty Years' Public Service in Canada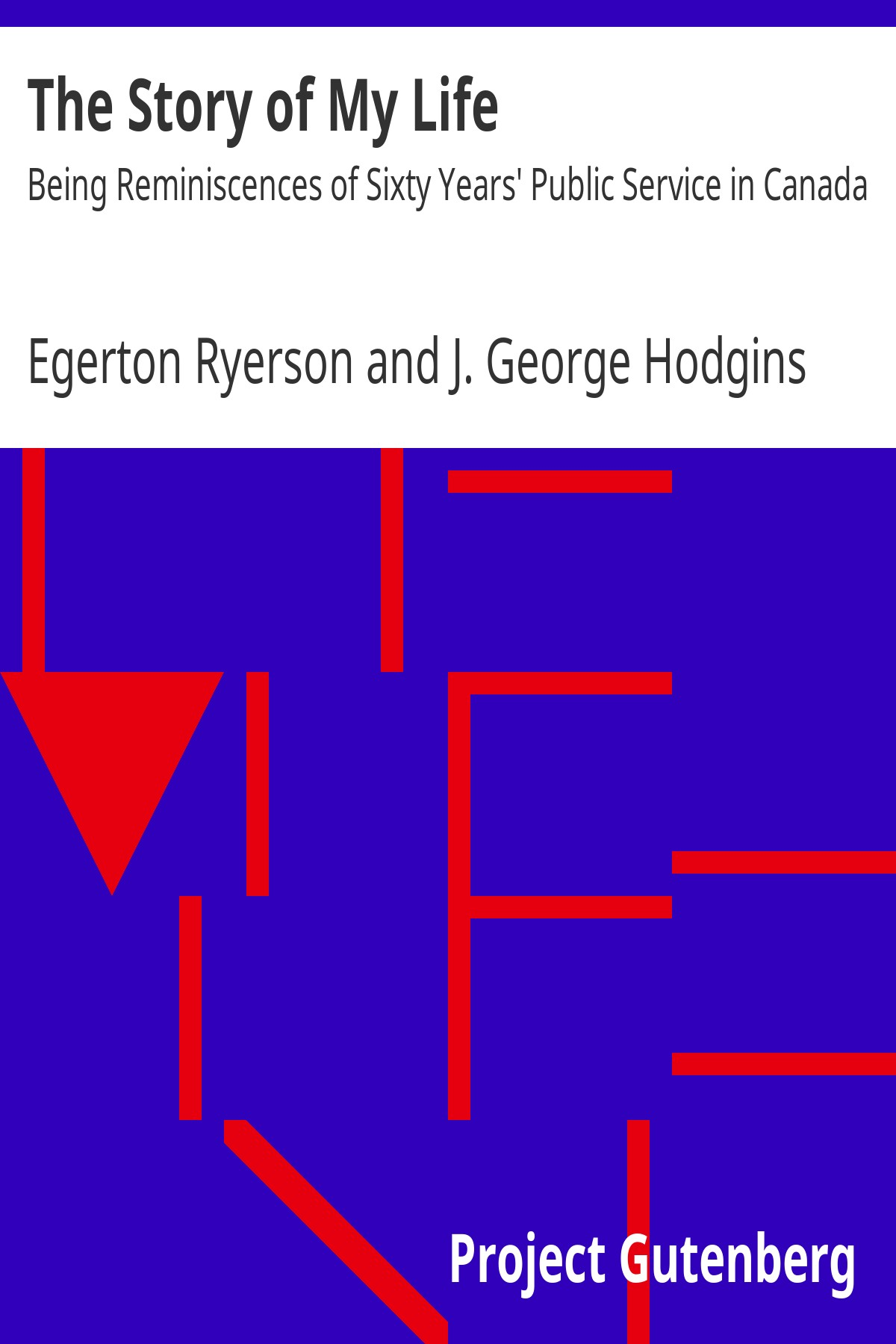 Видавництво:
Project Gutenberg
Спосіб оплати: Ви можете оплатити замовлення карткою Visa / Mastercard у захищеному форматі на сайті.
Поширити:
Читайте у додатку:
Опис:
The Story of My Life Being Reminiscences of Sixty Years' Public Service in Canada By John George Hodgins Twelve months ago, I began to collect the necessary material for the completion of \"The Story of My Life,\" which my venerated and beloved friend, Dr. Ryerson, had only left in partial outline. These materials, in the shape of letters, papers, and documents, were fortunately most abundant. The difficulty that I experienced was to select from such a miscellaneous collection a sufficient quantity of suitable matter, which I could afterwards arrange and group into appropriate chapters. This was not easily done, so as to form a connected record of the life and labours of a singularly gifted man, whose name was intimately connected with every public question which was discussed, and every prominent event which took place in Upper Canada from 1825 to 1875-78. Public men of the present day looked upon Dr. Ryerson practically as one of their own contemporaries-noted for his zeal and energy in the successful management of a great Public Department, and as the founder of a system of Popular Education which, in his hands, became the pride and glory of Canadians, and was to those beyond the Dominion, an ideal system-the leading features of which they would gladly see incorporated in their own. In this estimate of Dr. Ryerson's labours they were quite correct. And in their appreciation of the statesmanlike qualities of mind, which devised and developed such a system in the midst of difficulties which would have appalled less resolute hearts, they were equally correct. But, after all, how immeasurably does this partial view of his character and labours fall short of a true estimate of that character and of those labours! As a matter of fact, Dr. Ryerson's great struggle for the civil and religious freedom which we now enjoy, was almost over when he assumed the position of Chief Director of our Educational System. No one can read the record of his labours from 1825 to 1845, as detailed in the following pages, without being impressed with the fact that, had he done no more for his native country than that which is therein recorded, he would have accomplished a great work, and have earned the gratitude of his fellow-countrymen. It was my good fortune to enjoy Dr. Ryerson's warm, personal friendship since 1841. It has also been my distinguished privilege to be associated with him in the accomplishment of his great educational work since 1844. I have been able, therefore, to turn my own personal knowledge of most of the events outlined in this volume to account in its preparation. In regard to what transpired before 1841, I have frequently heard many narratives in varied forms from Dr. Ryerson's lips. My own intimate relations with Dr. Ryerson, and the character of our close personal friendship are sufficiently indicated in his private letters to me, published in various parts of the book, but especially in Chapter liii. We are delighted to publish this classic book as part of our extensive Classic Library collection. Many of the books in our collection have been out of print for decades, and therefore have not been accessible to the general public. The aim of our publishing program is to facilitate rapid access to this vast reservoir of literature, and our view is that this is a significant literary work, which deserves to be brought back into print after many decades. The contents of the vast majority of titles in the Classic Library have been scanned from the original works. To ensure a high quality product, each title has been meticulously hand curated by our staff. Our philosophy has been guided by a desire to provide the reader with a book that is as close as possible to ownership of the original work. We hope that you will enjoy this wonderful classic work, and that for you it becomes an enriching experience.
Рекомендовані товари: