The Historians' History of the World in Twenty-Five Volumes, Volume 06 The Early Roman Empire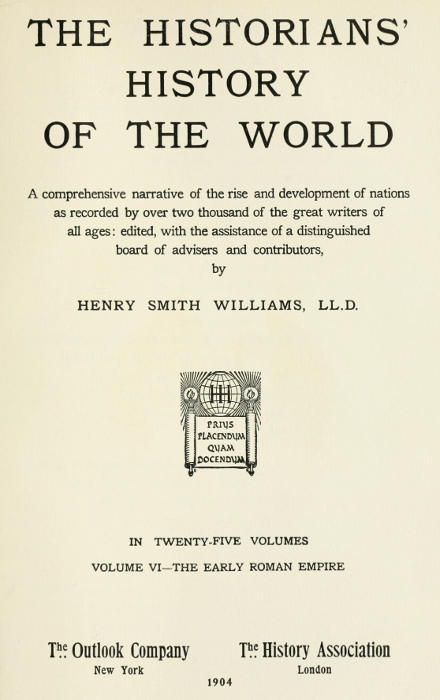 Видавництво:
Project Gutenberg
Спосіб оплати: Ви можете оплатити замовлення карткою Visa / Mastercard у захищеному форматі на сайті.
Поширити:
Читайте у додатку:
Опис:
The words "The Age of the Roman Empire is a period better abused than known," written by Theodor Mommsen half a century ago, no longer contain a truth. To his own illuminative and epoch-making works we owe it, in the first instance, that this period, so long unduly neglected and depreciated, has come into the foreground of research within the last decade or two, and has enchained the interest of the educated world far beyond the narrow circle of professed scholars. Edward Gibbon, the only great historian who had previously turned his attention to this particular field, and whose genius built up the brilliant Decline and Fall of the Roman Empire on the sure foundation laid ready to his hand by the vast industry of the French scholar Le Nain de Tillemont, chose to confine himself, as the title of his work declares, to giving a description of the period of its decay. By so doing he did much to confirm, though he did not originate, the idea that the whole epoch of the Roman Empire must be regarded as a period of deterioration, and that the utmost to which it can lay claim is an interest of somewhat pathological character, as being the connecting-link between antique and mediæval times, and between the pagan and the Christian world. And when we look upon the picture sketched by that incomparable painter of the earlier days of the empire, Tacitus, where scarcely a gleam of light illumines the gloomy scene, we may well feel justified in the opinion that the only office of this period is to set forth to us the death-struggle of classical antiquity, and that no fresh fructifying seeds could spring from this process of corruption.
Рекомендовані товари: