The Great Events by Famous Historians, Volume 10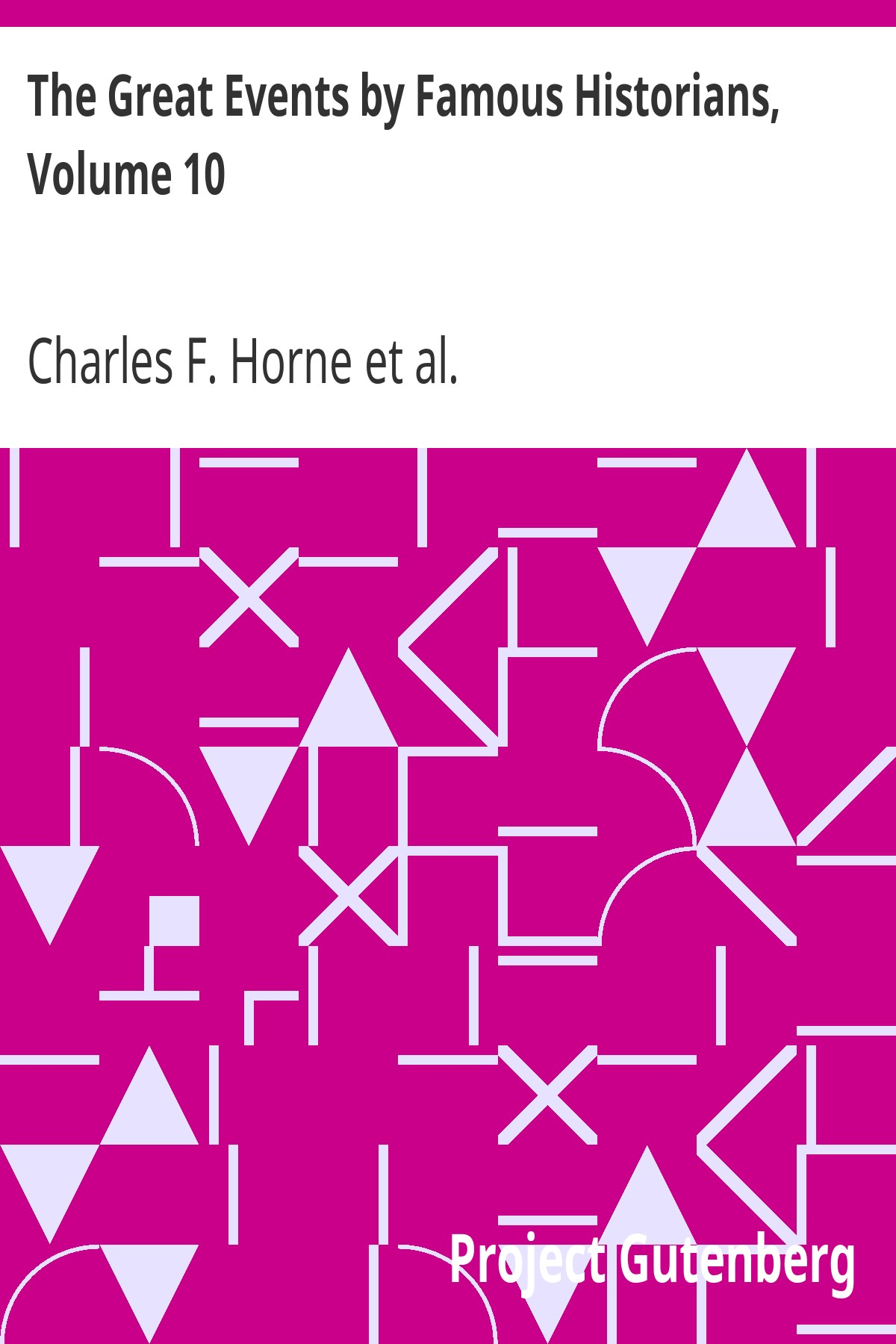 Видавництво:
Project Gutenberg
Автор:
Charles Francis Horne
Спосіб оплати: Ви можете оплатити замовлення карткою Visa / Mastercard у захищеному форматі на сайті.
Поширити:
Читайте у додатку:
Опис:
The Great Events by Famous Historians, Volume 10 by Charles F. (Charles Francis) Horne CHARLES F. HORNE Philip II succeeded his father Charles V on the throne of Spain. The vast extent of his domains, the absoluteness of his authority, and, above all, the enormous wealth that poured into his coffers from the Spanish conquests in America, made him the most powerful monarch of his time, the central figure of the age. It was largely because of Philip's personal character that the great religious struggle of the Reformation entered upon a new phase, became far more sinister, more black and deadly, extended over all Europe, and bathed the civilized world in blood. England stood forth as the centre of opposition against Philip, and under the unwilling leadership of Elizabeth entered on its epic period of heroism, was stimulated to that remarkable outburst of energy and intellect and power which we call the Elizabethan age. Philip, with a tenacity of purpose from which no fortune good or bad could lure him for a moment, pursued two objects throughout his reign (1555-1598), the re-stablishment of Catholicism over all Europe, and the extension so far as might be of his own personal authority. If we consider his personal ambition, we must count his reign a failure; for at his death his country had already fallen from its foremost rank in Europe and started on that process of decay which in later centuries has become so marked. If, however, we look to Philip's religious purpose, it is undeniable that during his reign Catholicism revived. Philip II, the Jesuits, the Council of Trent-these three were the powers by means of which the Roman Church beat back its foes, saved itself from what for a time had seemed a threatened extinction, and so far re-stablished its power that for over a century it appeared not improbable that Philip's purpose of reuniting Europe might be accomplished. We are delighted to publish this classic book as part of our extensive Classic Library collection. Many of the books in our collection have been out of print for decades, and therefore have not been accessible to the general public. The aim of our publishing program is to facilitate rapid access to this vast reservoir of literature, and our view is that this is a significant literary work, which deserves to be brought back into print after many decades. The contents of the vast majority of titles in the Classic Library have been scanned from the original works. To ensure a high quality product, each title has been meticulously hand curated by our staff. Our philosophy has been guided by a desire to provide the reader with a book that is as close as possible to ownership of the original work. We hope that you will enjoy this wonderful classic work, and that for you it becomes an enriching experience.
Рекомендовані товари: