The Friends of Voltaire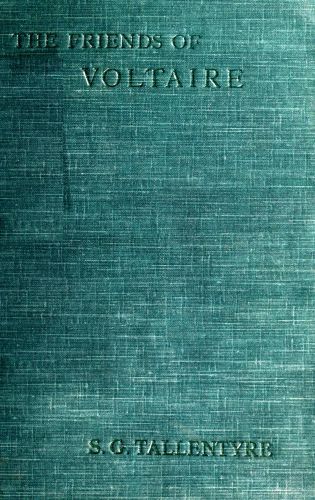 ISBN:
the-friends-of-voltaire
Видавництво:
Project Gutenberg
Автор:
Evelyn Beatrice Hall
Спосіб оплати: Ви можете оплатити замовлення карткою Visa / Mastercard у захищеному форматі на сайті.
Поширити:
Читайте у додатку:
Опис:
This historic book may have numerous typos and missing text. Purchasers can usually download a free scanned copy of the original book (without typos) from the publisher. Not indexed. Not illustrated. 1906 edition. Excerpt: ... EK BEAUMARCHAIS: THE PLAYWRIGHT Some men do great things incidentally and unintentionally. Pierre Augustin Caron de Beaumarchais bothered his clever head scarcely at all with schemes for the well-being of his country-- was little concerned with humanity and very much with one man--himself. Yet by a special irony of destiny the author of 'The Marriage of Figaro' played one of the chief parts in the prelude to the drama of the DEGREESRevolution. Born in Paris on January 24, 1732, the son of a watchmaker with a large family, Pierre Augustin Caron early learnt his father's trade, picked up a little Latin at a technical school at Alfort and the rest of his education from experience and from the world. A lively, impudent, good-looking boy, young Caron was from the first clever with that smart cleverness which is as distinct from genius or from wisdom, as kindness is distinct from sympathy PIERRE-AUGUSTIN-CARON DE BE AU M ARCH Al S. From an Engraving, after Michon, in the Bibliotheque Rationale, Paris. He was as sharp over his watchmaking as over everything he undertook in life. He had his first lawsuit--the first of so many !--over a discovery he made in his trade, and won it. But he was young, gay, musical, and Parisian. His trade was only a part of his life. There were debts and escapades. Then the watches took to disappearing mysteriously out of old Caron's shop; and finally old Caron turned his scapegrace out of doors, till the mother pleaded, not in vain, for the prodigal's return. Then the prodigal made the loveliest and smallest of watches for Madame de Pompadour's ring. The King was pleased to desire one also, and the King's daughters, Mesdames, followed their father's example; while the courtiers could not, of course, be out of the fashion....
Рекомендовані товари: