The Boys' and Girls' Herodotus Being Parts of the History of Herodotus, Edited for Boys and Girls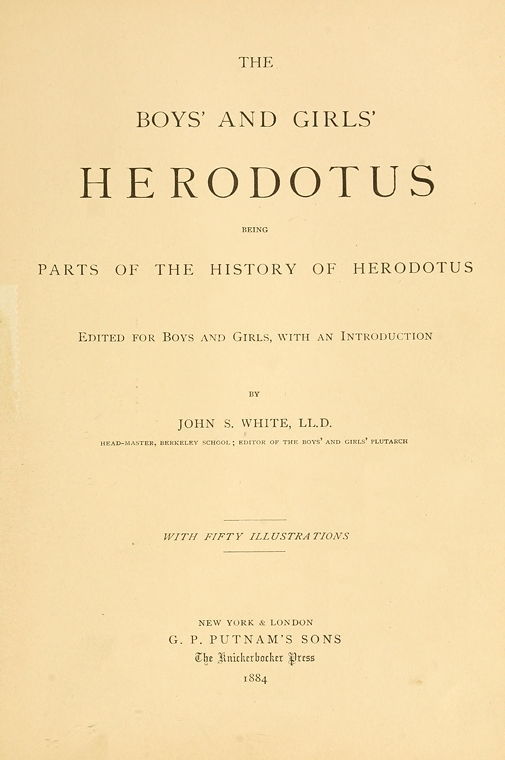 Видавництво:
Project Gutenberg
Спосіб оплати: Ви можете оплатити замовлення карткою Visa / Mastercard у захищеному форматі на сайті.
Поширити:
Читайте у додатку:
Опис:
The personal character of Herodotus, reflected from every page that he wrote, renders his vivid story all the more happily suited to the reading and study of boys and girls. He is as honest as the sun equally impartial to friends and foes candid in the state ment of both sides Ofa question and an artist withal in the gift of delineating a character or a people with a few rapid strokes, so bold and masterly that the sketch is placed before you with stereo scopic distinctness. For so early a writer he presents a surprising unity of plan, combined with a variety of detail that is amazing. What if he does crowd and enrich his story with a world of anec dote What if he feels bound always to paint for you the customs, manners, dress, and peculiarities of a people before he begins their history? This very biographical style is the charm of his pen. Like the flowers of the magnolia-tree, his bright stories and vivid descriptions at times almost overwhelm the root and branch of his narrative yet, after all, we remember the magnolia more because of its cloud of snowy bloom in the few fleeting days of May than for all its green and shade in the other months.
Рекомендовані товари: