The Annual Register 1914 A Review of Public Events at Home and Abroad for the Year 1914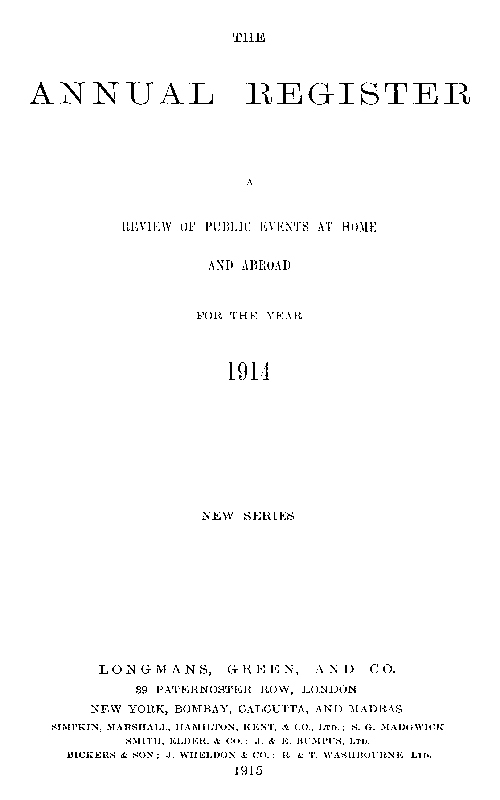 Видавництво:
Project Gutenberg
Спосіб оплати: Ви можете оплатити замовлення карткою Visa / Mastercard у захищеному форматі на сайті.
Поширити:
Читайте у додатку:
Опис:
The year opened amid continuing apprehension for the peace of Ulster, and sharp controversies on subjects so widely different as the discipline of the Church of England and the needs of naval defence. Though conversations were understood to have been resumed between the Liberal and Unionist leaders regarding the possible terms of settlement of the Home Rule question, it was clear that much difficulty would be found in effecting a solution; and the Bishop of Durham advised the clergy of his diocese to make the first Sunday of the year a day of intercession for peace in Ireland—advice which was followed in other parts of the country also. And the dissatisfaction of the Ministerialist rank and file at the shipbuilding expenditure of the Board of Admiralty was expressed by Sir John Brunner, the President of the National Liberal Federation, and powerfully stimulated by an interview with the Chancellor of the Exchequer published on the first day of the year by the Daily Chronicle.
Рекомендовані товари: