A Journey to Crete, Costantinople, Naples and Florence: Three Months Abroad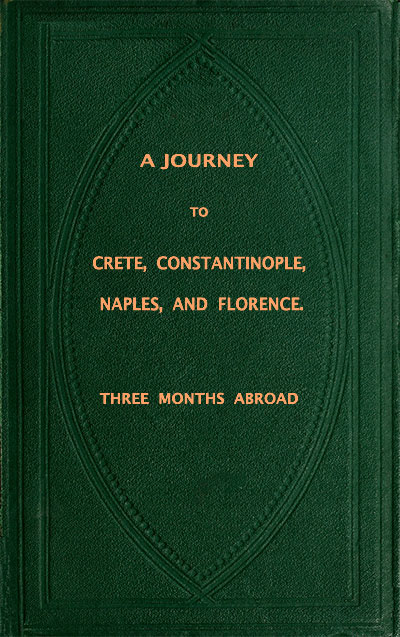 Видавництво:
Project Gutenberg
Спосіб оплати: Ви можете оплатити замовлення карткою Visa / Mastercard у захищеному форматі на сайті.
Поширити:
Читайте у додатку:
Опис:
It was on the morning of the 18th of March, 1865, that, "equipped from top to toe," I kissed all my little ones, shook hands with the kind friends who were to take care of them, and started with my husband on our grand wedding tour. Yes, this was to be our wedding tour; for the one we made directly after our wedding, more than ten years ago, did not deserve that name; and since then we had never travelled without, what is most properly called encumbrances, not meaning trunks or bandboxes, but babies of different sizes and ages. Our first wedding trip! Shall I confess that it did not extend farther than Broadstairs! How times change! Our wishes were more limited then; I am sure we thought we had gone quite as far as people could wish to go, for we went by water, and[2] the weather being rather windy, we were both very nearly sea-sick when we arrived. But no more of these old bye-gone times, I have other things to tell. When we drove off, and I looked once more back, my baby clapped her little fat hands together, and called out, "Lumps of delight, lumps of delight." A turban! a sword! a drum! screamed the boys, and off we drove on our way to Crete. Yes, to Crete! where nobody has ever been that I know of, since Theseus.
Рекомендовані товари: