A History of the Nations and Empires Involved and a Study of the Events Culminating in the Great Conflict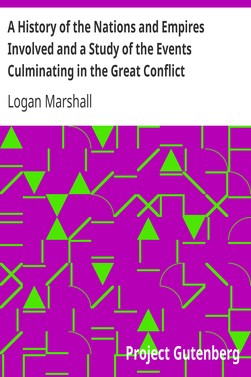 Видавництво:
Project Gutenberg
Спосіб оплати: Ви можете оплатити замовлення карткою Visa / Mastercard у захищеному форматі на сайті.
Поширити:
Читайте у додатку:
Опис:
Excerpt from The World War: A History of the Nations and Empires Involved and a Study of the Events Culminating in the Great Conflict
The year 1914 will stand out prominently in future history as the date of the most stupendous war in the history of mankind. In its special character, also, it may come to be regarded as the most atrocious of all wars, at least of all fought by civilized nations. Flashing, out suddenly like a bolt from the blue, unannounced, unexpected, unexplained, unprecedented in suddenness and enormity, it hurled nearly the whole of Europe within a week's time from a state of profound peace into one of continental war. The ringing of church bells was drowned by the roar of cannon, the voice of the dove of peace by the blare of the trump of war, and throughout the world ran a shudder of terror as these unwonted and ominous sounds greeted men's ears.
But in looking back through history, tracing the course of events during the past century, following the footsteps of men in war and peace from that day of upheaval when medieval feudalism went down in disarray before the arms of the people in the French Revolution, some explanation of the great European war of 1914 may be reached. Every event in history has its roots somewhere in earlier history, and we need but dig deep enough to find them.
Such is the purpose of the present work. It proposes to lay down in a series of apposite chapters the story of the past century, beginning, in fact, rather more than a century ago with the meteoric career of Napoleon and seeking to show to what it led, and what effects it had upon the political evolution of mankind.
About the Publisher
Forgotten Books publishes hundreds of thousands of rare and classic books. Find more at www.forgottenbooks.com
This book is a reproduction of an important historical work. Forgotten Books uses state-of-the-art technology to digitally reconstruct the work, preserving the original format whilst repairing imperfections present in the aged copy. In rare cases, an imperfection in the original, such as a blemish or missing page, may be replicated in our edition. We do, however, repair the vast majority of imperfections successfully; any imperfections that remain are intentionally left to preserve the state of such historical works.
Рекомендовані товари: